Escape Sling
So after much madness I've made it to Taipei and slept for a good 15 hours or so, and it's now 5 AM. I'm not quite sure what to do now, so I think I'm just gonna take it easy for a couple days and figure out whats next.
Yesterday was mostly uneventful aside from the Grand Walking Adventure™ in the morning and the crazy long plane ride the night of (Although it wasn't as bad as the 14-hour Hong Kong flight last year).
I used some broken Mandarin to try to find my hostel but the person I asked directed me the wrong way. Eventually a random local helped me find it.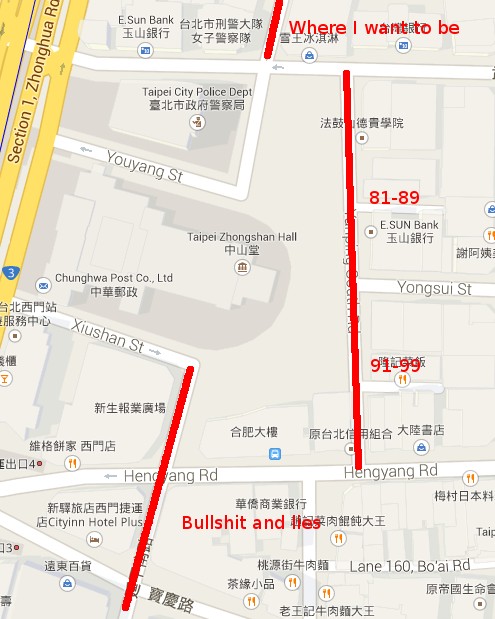 Seriously look at that shit, I was wandering around looking for No. 90 for a long time. Oh well, I got here eventually.
After that, I checked in and ended up spending a large chunk of the day wandering around Ximending (西門町) because it's super close. I also managed to purchase some kind of magical towel, a cheapo water bottle and other random trinkets. Success.
I also managed to find an arcade which has some Street Fighter 4 AE cabs with some seriously fucked up buttons. It's only a couple blocks away so I'll probably spend a good chunk of time there. It's about $0.50 a play, so it's not super cheap. Oh well, it'll be fun to see how good the locals are.
Today, after collapsing for 15 hours (Woo jetlag!) I took a much needed shower, experienced The Bidet™ and decided to buy a sim card at the airport.
Apparently you have to go to the airport as a foreigner to buy a sim card for some reason that I don't understand, so after two more thrilling bus rides I have a real phone number here.
I also somehow managed to order lunch, and now I'm at the hostel trying to figure out what to do next. Since getting up at 5AM has seriously messed up my schedule, I'm going to see if I can hit up a night market later this evening. I hear they're awesome.